Arturo Alfonso Schomburg:Afro-Puerto Rican Writer, Historian, Activist
Arturo Alfonso Schomburg, writer, activist, collector, and important figure of the Harlem Renaissance was born in Saturce, Puerto Rico. His mother, a black woman, was originally from St. Croix, Danish Virgin Islands (now the U.S. Virgin Islands), and his father was a Puerto Rican of German ancestry. Schomburg migrated to New York City, New York in 1891.Very active in the liberation movements of Puerto Rico and Cuba, he founded Las dos Antillas, a cultural and political group that worked for the islands' independence.After the collapse of the Cuban revolutionary struggle, and the cession of Puerto-Rico to the U.S., Schomburg, disillusioned, turned his attention to the African American community.In 1911, as its Master, he renamed El Sol de Cuba #38, a lodge of Cuban and Puerto Rican immigrants, as Prince Hall Lodge in honor of the first black freemason in the country.
Queen Sophia Charlotte: First Black Queen of England (Great Britain and Ireland)
Princess Sophie Charlotte was born on this date in 1744. She was the first Black Queen of England. Charlotte was the eighth child of the Prince of Mirow, Germany, Charles Louis Frederick, and his wife, Elisabeth Albertina of Saxe-Hildburghausen.In 1752, when she was eight years old, Sophie Charlotte's father died. As princess of Mecklenburg-Strelitz, Sophie Charlotte was descended directly from an African branch of the Portuguese Royal House, Margarita de Castro y Sousa.Six different lines can be traced from Princess Sophie Charlotte back to Margarita de Castro y Sousa. She married George III of England on September 8, 1761, at the Chapel Royal in St James's Palace, London, at the age of 17 years of age becoming the Queen of England and Ireland.The conditions of the marriage contract were, 'The young princess, join the Anglican church and be married according to Anglican rites, and never ever involve herself in politics'.Although the Queen had an interest in what was happening in the world, especially the war in America, she fulfilled her marital agreement. The Royal couple had fifteen children, thirteen of whom survived to adulthood. Their fourth eldest son was Edward Augustus, Duke of Kent, later fathered Queen Victoria.
Black Travel Books to Add toYour Must Read List
Destinations, Historic Landmarks and Travel Trails First in a three-part series, NoirGuides has curated a listing of 30 African American travel books focused on important U.S. Destinations, Historic Landmarks, and Travel Trails. Written primarily by Black authors, our selection is based on readings which offer historic context essential to understanding the rich legacy and contributions of African Americans. For travel planning as well as interested readers.
Part I: History and Context​ Both inherently and overtly political in content, the Black Arts movement was the only American literary movement to advance "social engagement" as a sine qua non of its aesthetic.The movement broke from the immediate past of protest and petition (civil rights) literature and dashed forward toward an alternative that initially seemed unthinkable and unobtainable: Black Power.In a 1968 essay, "The Black Arts Movement," Larry Neal proclaimed Black Arts the "aesthetic and spiritual sister of the Black Power concept." As a political phrase, Black Power had earlier been used by Richard Wright to describe the mid-1950s emergence of independent African nations.The 1960s' use of the term originated in 1966 with Student Nonviolent Coordinating Committee civil rights workers Stokely Carmichael and Willie Ricks.Quickly adopted in the North, Black Power was associated with a militant advocacy of armed self-defense, separation from "racist American domination," and pride in and assertion of the goodness and beauty of Blackness.Although often criticized as sexist, homophobic, and racially exclusive (i.e., reverse racist), Black Arts was much broader than any of its limitations. Ishmael Reed, who is considered neither a movement apologist nor advocate ("I wasn't invited to participate because I was considered an integrationist"), notes in a 1995 interview,"I think what Black Arts did was inspire a whole lot of Black people to write. Moreover, there would be no multiculturalism movement without Black Arts. Latinos, Asian Americans, and others all say they began writing as a result of the example of the 1960s."
Beats, Steps & the Visual Arts in Cuba Today
​Cuba is a melting pot of indigenous, African, European, and Asian influences. It's a country that experienced periods of war, upheaval, and economic prosperity before its fate was changed dramatically by a revolution that isolated it from much of the world for the last half century. Cuba is truly a unique place. Its culture reflects that.With the opening of relations with the US, and increased interest in the Caribbean nation, today's Cuban culture is a colourful mix of old and new ready to be explored by visitors A Diversity of RhythmsBorn of Afro-Cuban rhythms, numerous musical forms have developed in Cuba and have gotten the whole continent dancing. Bolero, mambo, and rumba all call the island home. music is a blend of Spanish guitar with African percussion, and is the origin of salsa. In Havana, , along with other musical traditions, is alive and well. This style of music is most famously embodied in the Buena Vista Social Club, a members' club that closed in the 1940s but enjoyed a revival with the with the 1990s band.Several original members still perform individually worldwide, but Compay Segundo's grandson carries on the salsa tradition on Monday and Wednesday nights at the . Classic pre-revolutionary nightlife can also be experienced at the historic , a world-renowned cabaret extravaganza of Cuban music and folklore.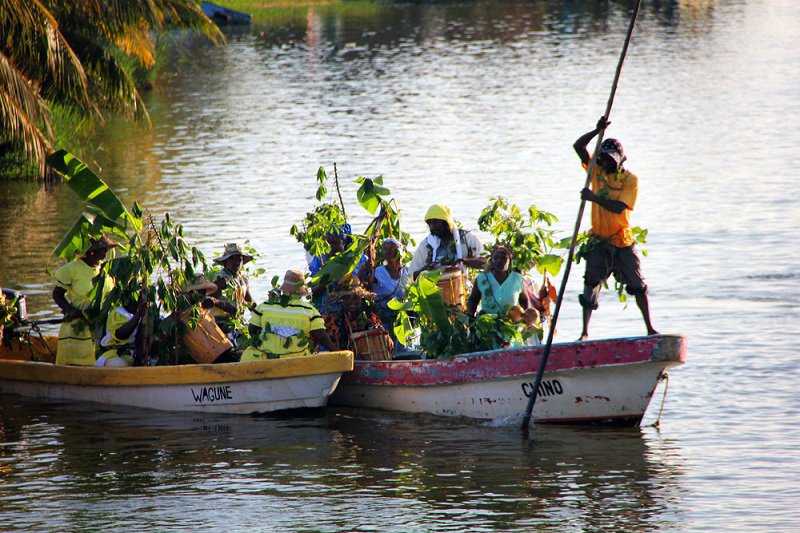 The Garifuna of Belize are a true Afro-Caribbean people, originating over 500 years ago when the indegenous inhabitants of the island of St. Vincent intermarried with enslaved Africans, together resisting slavery and fighting fiercly against the conversion of their lands into slave plantations.British and French colonists vied to control the island, eventually deporting the Garifuna to Central America, where the survivors formed communities along the Caribbean coast in Guatemala, Honduras, Nicaragua and Belize (formerly British Hondurus. Today, Garifuna culture has not only survived but is known worldwide through its music and dance. Garifuna culture is so unique it was proclaimed by UNESCO as a Masterpiece of the Oral and Intangible Heritage of Humanity in 2001.
Phyllis Hyman: The Sophisticated Lady
Deep-voiced and statuesque, Phyllis Hyman sang with a life-affirming energy and emotional intensity found in few other female vocalists. Born in Philadelphia in 1949 (and raised in Pittsburgh), her professional career began in New York City where, during an engagement, she was spotted by producer Norman Connors and contemporaries Jean Carne and Roberta Flack, among others.She was immediately offered a guest appearance on Connors' "You Are My Starship" album (1976), which included her classic rendition of "Betcha By Golly Wow" (previously a hit for The Stylistics in the early 1970s).In 1977 Buddah Records released her self-titled debut LP, which featured the hits "Loving You/Losing You" and "I Don't Wanna Lose You". A year later she was signed to Arista Records.Her premiere album for the label, "Somewhere In My Lifetime", was released in 1978 (it included many tracks that she recorded for a second album at Buddah titled "Sing A Song", which is now available on CD!). The title track for the album--produced by a newcomer named Barry Manilow, a longtime admirer of hers--became Phyllis' first solo radio hit.A cover version of Exile's "Kiss You All Over" was remixed for club play as part of Arista's promotion, showcasing her versatility. The following year, the James Mtume-/Reggie Lucas-produced "You Know How To Love Me" album, also on Arista, hit the record stores, and the title track became one of her biggest dance anthems.
Let Them Speak: It's Time to See More Works from Women Writers of Color on Stages Across America
A shockingly low number of women writers of color are presented on stages across America. Looking at regional theatres across the country in the last three theatrical seasons, only 3.8% of plays were written by a woman of color according to .Here in Seattle in fall 2016, we saw the tides begin to change as three theatrical organizations produced works by black women playwrights: with Wedding Band: A Love/Hate Story in Black and White (culminating their full summer season celebrating black women playwrights), with A Raisin in the Sun, and our own contribution, with The Wedding Gift.While this is a triumph for Seattle, a great, progressive city, we must continue pushing forward as a nation. Our work will not be done until we allow artists of color the same opportunities to share their thoughts and explorations on any subject within the human experience, not just what we deem them to be through the lens of their race.This freedom to tell stories about the complex whole of humanity is a privilege that has been reserved for the mostly white men who have commandeered our stages for so long.Here's the thing: it's hard enough just writing a damn play. But when you're a white playwright writing about white people, you don't have to also worry about your socio-political responsibility to white people, whether you're representing them accurately or in a way that they'll find acceptable.
Black Dance and Performing Arts Tours You Must See
A listing of Black dance and performing arts companies and performers now on tour.
A Guide for Your Visit to Detroit
Where someone saw an overgrown railway cut, a coalition saw the urban walking/biking trail. Where others saw a vacant car dealership, art lovers saw , a new modern art museum. And where many saw a vacant, blighted storefront, Dave Kwiatkowski dreamed of the cocktail bar.If you've been anywhere near the Internet in the past few years, you've likely read something about revitalization in Detroit. There are countless stories of people making their ideas, big and small, happen in the city.Not surprisingly, a creative force of artists, foodies, and entrepreneurs are at the heart of any rebirth, renewal, renaissance, revitalization, re-energizing, or reimagining Detroit has experienced in the past decade. And, if you're visiting the city for the first time, or the first time in a long time, you will want a sample.
Alessandro de' Medici: The Black Prince of Florence
Alessandro de' Medici, called "Il Moro" ("The Moor"), was born in the Italian city of Urbino in 1510. His mother was an African slave named Simonetta who had been freed. Alessandro's paternity is uncertain. Most sources name Lorenzo de' Medici, ruler of Urbino.But Alessandro might also have been the son of Pope Clement VII, the brother of Lorenzo II who became the head of the Medici family after Lorenzo's death.Clement VII chose the nineteen-year-old Alessandro to become the first Duke of Florence in 1529.Pope Clement at that time was at odds not only with the Florentines who had driven out the Medici family in 1497, but also with the emperor Charles V.To solidify the allegiance that the papacy owed to the Holy Roman Empire, Alessandro was named Duke of Florence and promised the emperor's daughter Margaret.With the help of Charles V, Clement could restore the rule of the Medici family in Florence in 1530 and make Alessandro the first reigning Duke.Supported initially by the best families, Alessandro became an absolute prince, overthrowing the city's' republican government.
Stunning Photos of the African Presence in Peru.
Black Women Have Theorized Everything: A Conversation On Playwrights Lorraine Hansberry and Lynn Nottage
The conversation below is between two Black feminist cultural producers. We, Sola Bamis and Tia-Simone Gardner, read and worked through the ideas in Lorraine Hansberry's (1963) and (2017).What we hope is that the love we have for these two artists structures the conversation and critiques that we had of their work, and also that the love and respect we have for each other as Black feminist artists and intellectuals is made clear.Initially it was difficult for us to find points of dialogue between these two playwrights' work, but through our conversation we returned time and time again to the ways that both Hansberry and Nottage brought us back to the unresolvable conditions of living under what bell hooks terms a structure of "heteronormative, imperialist, capitalist, white supremacist, patriarchy."In contrast to Hansberry's Sidney Brustein, which takes its point of entry into this structure from the position of the white male liberal intellectual, Nottage's Sweat weaves together an analysis of contemporary struggles of capitalist domination through the voices of a group of laborers in a small manufacturing town in Pennsylvania.
Hawaii: Black Royalty in the Pacific
Setting aside their bigotry, the Southern settlers hit upon a fact which is studiously ignored by modern anthropologists and historians: the natives of Hawaii, America's 50th State, were Black people whose ancestral roots extend back to the continent of Africa.The story of the Black Hawaiians is one of the most tragic of modern times.It is a tale of adventure and gaiety in paradise that turned into a cultural nightmare. It is America's best kept secret. We must venture into antiquity to learn of the roots of the Black Hawaiians, whose glorious star, now vanished from the Heavens, once brightened the Pacific for two thousand years.Most anthropologists, paleontologists and archaeologists around the world generally believe that human beings evolved on the continent of Africa, from 3 to 5 million years ago, and that they eventually spread from Africa into Europe, Asia the Pacific Islands and finally the Americas.In time, these Black settlers developed very advanced societies that sent navigators to explore and settle various islands of the Pacific Ocean. They reached such places as New Guinea, Fiji, New Hebrides, New Zealand, the Society Islands, Tahiti, Easter Island and thousands more.The first people to reach what is now Hawaii were Blacks from Polynesia – a name which means "many islands" – in the central Pacific. They sailed to Hawaii in giant canoes about 2,000 years ago.The Hawaiians and their neighbors in the Pacific have long been the subject of controversy among scientists. The people in this part of the world are generally divided into three groups: Melanesians (the word means black islands), who are unmixed Black people; Micronesians (which means small islands), an ancient Black people who are now largely mixed with Asians; and Polynesians, a people who were also originally Black but have mixed historically with Asian Mongoloids and White Europeans.
On-and-Off Black Broadway Shows You Must See
On and off Broadway plays and musicals written, directed, or featuring Black cast members and other creatives.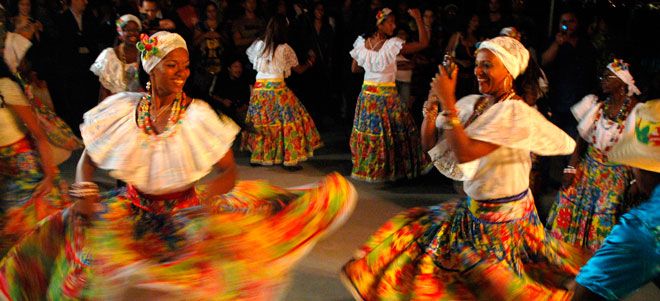 Candomblé: Dance of the Orixás in Modern Day Bahia, Brazil
It was a summer Sunday evening in the Federaco hillside neighborhood of Salvador, Bahia where warm sea breezes gently enveloped us as we journeyed into a large open-aired whitewashed stucco temple (terreiro), to attend a traditional Afro-Brazilian Candomble ceremony.Within moments of arriving we got the distinct impression that we were in for an exciting, enriching and otherworldly experience. Incense filled the air, large golden ornaments hung from the ceiling and ornate murals covered the walls. In one corner was an elaborate altar laden with brilliantly colored artifacts, figurines, candles and vases of flowers and in the other corner, a spirited cadre of male drummers, beating out innovative and infectious rhythms.Threading our way through the crowd of fifty or so neighborhood folk, initiates and tourists, we found seats on the bleacher-like benches nestled along the back wall. Emerging slowly from a doorway on the opposite side of the large ceremonial hall, one by one, a line of 23 women sinuously sauntered into the center of the room. Clad in immaculate white garb they quietly chanted and danced in unison until they made a large circle in the middle of the floor.Their floor-length cotton skirts covered many layers of elaborate petticoats, their puff-sleeved blouses were covered by sashes that bound their chest, their heads were wrapped in a variety of intricate turban styles and each wore a wide array of brightly colored glass bead necklaces.In concert with the drumbeats, their undulating movements and African chants steadily increased in pace during the hour-long preparatory period wherein the priestesses were calling to the orixas, ancestral African spirits, inviting them down into the sacred space.
A "Ballot or Bullet" Art: The Legacy of Amiri Baraka
In his autobiography, Amiri Baraka, born Everett LeRoi Jones in 1934, describes a stunned moment of self-discovery after reading a poem in the New Yorker. Baraka, then a twenty two-year-old aspiring poet, is confronted with a vast gulf between his reality and the sentiments and aesthetics of the poem, not to mention that of the New Yorker itself.…Gradually I could feel my eyes fill up with tears, and my cheeks were wet and I was crying like it was the end of the world… I realized that there was something in me so out, so unconnected with what this writer was and what that magazine was that what was in me that wanted to come out as poetry would never come out like that and be my poetry.A decade later, in his manifesto poem for a black political and artistic renaissance, Baraka would give his own succinct definition of poetry, a far cry from what he had encountered in the pages of the New Yorker: "We want poems that kill/Assassin poems, Poems that shoot guns."I bring up the New Yorker example to simply emphasize Baraka's singular role in orchestrating a new kind of literature from the messy and indecorous world of politics, a new art that gave vent to the black experience in America at the height of the Civil Rights movement.He rapidly went from being an outsider to one of the most urgent voices of political rebellion and literary avant gardism in mid-twentieth century America.
Great Black Kingdoms In Early South Asia
The great classical civilizations of Southeast Asia are Angkor in Cambodia and Champa in Vietnam. Much of our knowledge of early Southeast Asia is derived from Chinese and Indian sources. The builders of Angkor were the Khmers. The Khmer men were described by the Chinese as "small and Black." In modern times, as early as 1923, Harvard University anthropologist Roland Burrage Dixon noted that the ancient Khmers were physically "marked by distinctly short stature, dark skin, curly or even frizzly hair, broad noses and thick Negroid lips." THE KINGDOM OF ANGKOREarly in the ninth century, King Jayavarman II (802-850) unified the Khmer kingdom and identified himself with the powerful Hindu deity Shiva. The Khmers of Angkor were sophisticated agriculturalists, advanced engineers, aggressive merchants and intrepid warriors. They developed a splendid irriga­tion system (with some canals extending forty miles in length), and created grandiose hydraulic works. The hydraulic system of Angkor was used for transportation and for rice cultivation to support a surrounding population estimated at one million people.During the reign of King Indravarman I (877-889), for example, the vast artificial lake known as the Indratataka was completed. For the harsh purposes of war the Khmer engineers designed machines to launch fearsome arrows and hurl sharp spears at their enemies, and rode boldly into battle atop ornately outfitted elephants.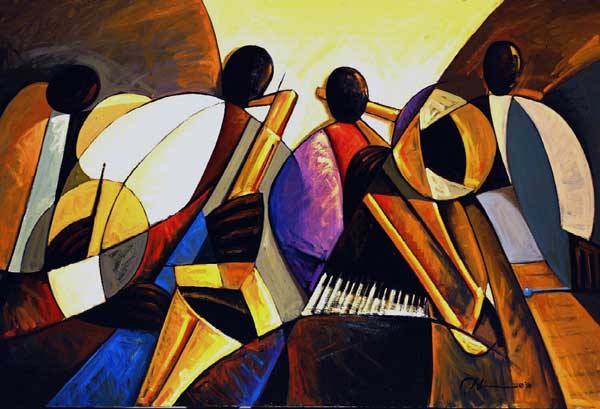 The Harlem Renaissance and the "New Negro"
One of the most significant intellectual and artistic trends of twentieth-century American history, the Harlem Renaissance impacted art, literature, and music in a manner that forever altered the American cultural landscape.The Harlem Renaissance was a movement in the 1920s through which African-American writers, artists, musicians, and thinkers sought to embrace black heritage and culture in American life.This shift towards a more politically assertive and self-confident conception of identity and racial pride led to the establishment of the concept coined by Alain Locke.While describing the Locke referred to a renewed intellectual curiosity in the study of black culture and history among the African-American population. This evaluation of identity required an honest representation of the African-American experience.The adoption of serious portrayals of black American life in art, as opposed to the caricatures provided through minstrelsy and vaudeville, was a necessary step in the cultivation of the Harlem Renaissance ideals.
The Underground Railroad and Historic Inns with Underground Railroad Ties
The Underground Railroad, a vast network of people who helped fugitive slaves escape to the North and to Canada, was not run by any single organization or person. Rather, it consisted of many individuals -- many whites but predominently black -- who knew only of the local efforts to aid fugitives and not of the overall operation. Still, it effectively moved hundreds of slaves northward each year -- according to one estimate, the South lost 100,000 slaves between 1810 and 1850.An organized system to assist runaway slaves seems to have begun towards the end of the 18th century.In 1786 George Washington complained about how one of his runaway slaves was helped by a "society of Quakers, formed for such purposes." The system grew, and around 1831 it was dubbed "The Underground Railroad," after the then emerging steam railroads.